God the Father, Reflected in Jesus Christ with Trevor Hart
There is positive encouragement and assurance in knowing that God's eternal purpose is to be God in Jesus Christ for us — that God the Father is fully reflected in the face of Jesus.
About Trevor Hart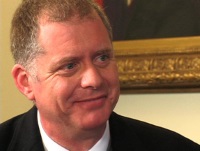 Professor of Divinity at the University of St. Andrews in Edinburgh, Scotland. He received his PhD from the University of Aberdeen in 1989.